Loft
Conversion
Specialists
London
A loft conversion is the process of transforming an empty loft space into a functional room, typically used as an en-suite bedroom, office space or studio.
A loft conversion is a great way to utilize the extra space within your home that you already own. Where the existing house is an L-shape, we often manage to gain two additional rooms along with one bathroom.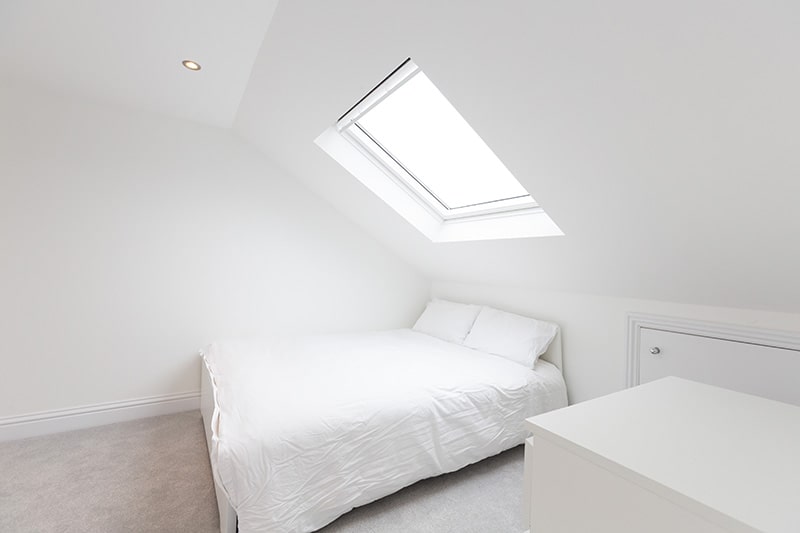 A well-designed loft conversion could add as much as 25% to the value of your property. Almost all lofts can be converted with some requiring local council planning permission; depending on the type of property you live in and its location.
Check out our Lofts FAQ's page for more detailed information on the requirements for a loft conversion.
Dormer
Loft
Conversion
This type of loft conversion is typically an extension of the existing roof that projects vertically from a sloping roof. It creates additional floor space and head room within the building. The dormer extension walls sit at a 90 degree angle to the floor.
Dormer Loft Conversion
An L-shaped dormer also extends out over the slim rear addition that is common on Victorian houses. It is typical that any property with a pitched roof could have a dormer loft conversion.
If you have a flat roof it would be more typical for a conversion to be a mansard loft conversion.
Mansard
Loft
Conversion
This type of conversion has a flat roof with 70° inwardly sloping walls and small dormer windows. A number of London houses are suitable for this type of conversion specifically within conservation areas.
Mansard Loft Conversion
A Mansard Loft Conversion is generally the most expansive loft conversion and typically covers the entire plane of your household's roof. Therefore, are similar to a whole storey extension rather than merely the addition of an extra room.
It must be noted that, most mansard loft conversion will require planning permission.
Velux
Loft
Conversion
Also known as a roof window conversion, it is the most cost effective loft conversion. It can also be an attractive option where a large loft exists, as it fits into the line of the roof with little or no restructuring of the roof required.
Velux Loft Conversion
The installation of windows provides a loft space with substantial light. A roof window conversion is often completed without the need for planning permission, but will require building regulation approval.
Bespoke design

solutions
As part of our design services, we aim to help bring special awareness to our project for clients. We can provide cutting edge 3D renders of room layouts and dimensions so you can see how your new extension or loft space can work.
Kitchen, Bathroom and fitted furniture design
We also offer a bespoke kitchen and fitted furniture design service. We have helped clients to create new contemporary kitchens, bathrooms and bedroom wardrobes that maximize the new space in a new loft conversion or extension.
In consultation with our clients, our in-house designer produces plans and 3D renders of kitchens and bathrooms. The detail in the design can demonstrate how particular door finishes, handles, worktops, tiles, sanitary ware and fitted-furniture will look in a finished kitchen, bathroom or bedroom. More importantly, our designer will help you to optimise the utilisation of the space.
Our design service really helps clients to implement their dream kitchen or bathroom and help them to plan space efficiently. Moreover, as we do this planning stage during your build, it makes our job more efficient when it comes to ordering and installation.