Blog
Materials
price
increases
These are not unprecedented times; history has shown that, with economic crisis, pandemics and wars all having happened before. Nevertheless, it has been many years since such events have conspired to cause costs to spiral and stocks to plummet so dramatically. A major part of our work over the past 6-8 months has been managing risks associated with this uncertainty in the market and setting realistic expectations as to time cost and risk management.
Having said that, we have seen a stabilisation of stock levels across all the primary materials. According to the latest Construction Product Availability Statement issued by the Construction Leadership Council there is good supply of most products and materials, but, ongoing challengers continue to affect bricks, aircrete blocks, concrete products, PIR insulation products and gas boilers, all of which are on long lead times. Most wood products are fully stocked and remain fully available. However, availability of some raw materials supplies that originate from Russia, Ukraine and Belarus are less certain. For example, Birch plywood, which is likely to become increasingly scares as summer progresses as outside of Russia there is limited production from Europe.
Currently, the biggest issue we are facing is inflationary pressure, which is influencing ours and client decisions. Data published by BEIS (Department for Business, Energy, and Industrial Strategy) showed that material price inflation increased to over 24% in March for a range of materials. On the ground we have seen the impact of rising fuel costs on our waste management, with the cost of skips rising sharply. Suppliers' prices lists show that all ranges of materials are seeing monthly increases of between 3% and 15%.
So, what is the outlook? We think further uncertainty in supply levels particularly on specialised products and base raw materials that originate from Ukraine, Russia, and Belarus such as copper, aluminium, oil, bitumen, and iron ore used for steel. The raw materials shortages will be felt across steel suppliers, timber cladding, aluminium windows, and roofing trades. Price inflation is the biggest threat going forward and is a risk we must manage alongside all our clients. We continue to monitor and communicate the situation.
Changes
to
building
control
regulations; what
does
that
mean
for
you?
#buildingcontrolregulations
#loftsandextensionslondon
#designandbuild
#creativespacedesignandbuild
The Building Control Regulations are changing ahead of the Future Homes and Buildings Standards set for 2025. It marks a significant enhancement to existing energy efficiency standards for homes. It is also considered, by the Department of Levelling Up, Housing and Communities as a step towards meeting the UK's net zero target. The regulations are set to come into force on 15 June 2022. So what does this mean for your building project?
The new regulations have 5 approved documents including enhanced rules on Part L (fuel and power) and Part F (Ventilation). These regulation enhancements will have an impact on new and existing homes. In existing homes standards will be raised to reduce energy use and carbon emissions during home improvements.
Enhancements to Part L and F of the Building Regulations have set new minimum standards for fabric efficiency. What this means is that a new efficiency metric will be applied for the whole house with new extensions specifically pertaining to heat loss through windows and more efficient heating systems. There will be requirement for new or replacement heating system designs to accept low-carbon heating in the future.
Approved Document O addresses ventilation and will impose new minimum metrics for limiting solar gains for buildings or parts of buildings without cross ventilation. Effectively it specifies the maximum area of glazing as a % of the floor area.
Approved Document S has also been published, but this pertains specifically to electric car charging points in new homes.
These regulations will not affect projects currently in planning or that have planning approved up to 15 June. After that date, the regulations will apply to all new planning applications.
We work closely with our Building Control Partners to ensure a smooth transition to these new regulations on all our projects.
For more information or to read the specific changes please visit:
The Department for Levelling Up, Housing & Communities
Creative
Spaces
; A
greener
construction
business
#corporatesocialresponsibility
#greenerconstruction
#environmentalresponsibility
#environmentalimpact
#positiveenvironmentalimpact
#betterbuildingpractices
The greener agenda and environmental sustainability are now moving to the forefront of building regulations and construction business practices. We at Creative Spaces, feel that it is important for every business to take responsibility for reducing their carbon footprint and to deliver on the environmental efficiency agenda. In order to achieve some level of change, we needed the cooperation of our clients and supporting organisations across the supply chain in order to reduce our carbon footprint.
Our first step was to assess our impact on the environment and socially and how we might reduce this. We decided to develop and implement a Corporate Social Responsibility (CSR) policy to the business. To meet our CSR targets we needed to change some "lifelong" habits, which included spending lots of time traveling around Greater London in the car conducting meetings. We implemented a twofold change that had a positive impact on the environment and on business productivity. We invested in digital support platforms to conduct more of our meetings online. This has increased productivity and reduced our environmental impact. We also invested in hybrid car's, minimising the need for fossil fuels.
Moving forward, a changing regulatory environment is forcing us to reassess some of our building practices. Whilst, our building practices are geared towards constructing lofts and extensions that reduce carbon footprint through high levels of insulation, installing low emissivity glass and glazing with a better U-value and utilising more modern building materials to reduce the necessity for extreme heating and cooling. For more information on the changes in building regulations rules please see the FMB website
In our view, we have only taken small steps by implementing some environmental efficiencies and there is still much work to do!
Dormer
Loft
Conversion
Loft conversions are the most popular way to gain additional living space without the hassle and cost of having to move. It is also an effective way to add value to your home; according to research carried out by the RESI, a loft conversion in London could potentially add 20% to the value of a property. Furthermore, a loft conversion could fall within your permitted development rights therefore not requiring planning permission. To know if your planned loft conversion falls under your permitted development rights you must check with your local planning authority. It is also advisable to apply for a lawful development certificate. For further details on permitted development rights and a lawful development certificate please visit the planning portal (https://www.planningportal.co.uk)
One of the most popular types of loft conversion is a dormer loft conversion because it creates more headroom and floor space within the property. It is an extension of the existing loft that projects vertically from a sloping roof. Typically a dormer loft conversion, could add an extra bedroom and bathroom at a fraction of the cost of moving.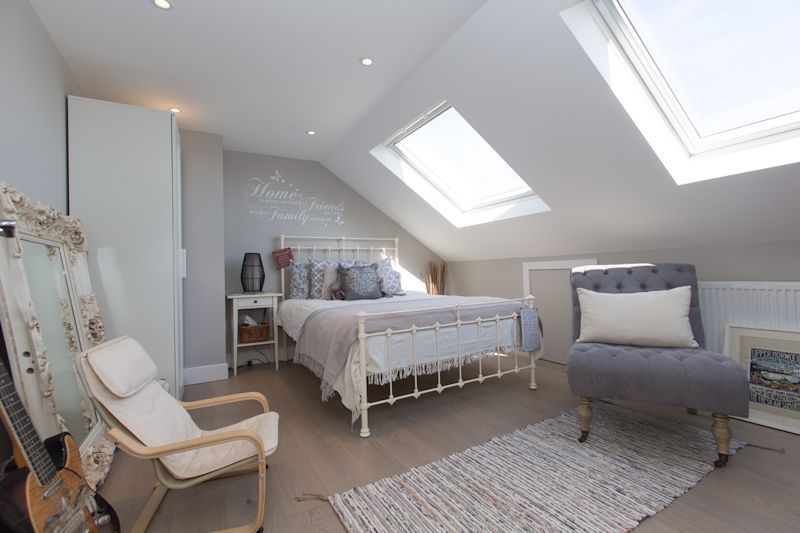 The additional space created by the dormer roof allows maximum flexibility to how the inside is laid out and appointed. Some clients prefer to have a large room, while others prefer to add a bathroom. In some cases, there has been such a large quantity of space created by the loft conversion, that a small nursery room, a walk-in wardrobe and even a sauna is possible.
A loft conversion is a relatively straightforward process. It takes between 8 and 10 weeks to build a loft conversion and can cost anywhere from £45,000 upwards depending on the specifications. Our team at Creative Spaces is dedicated to guiding you through the design and decision making process of your build.
One of our most frequently asked questions is how do we maintain light in our stairwell after the conversion? Frequently we install roof lights or Velux windows directly above the new stair to the loft. This draws in a significant amount of light down in the stairwell and the stairs - some examples can be seen in our gallery.
If you are considering a dormer loft conversion here are some links to articles that might provide inspiration or check out our dormer loft conversion gallery.
Busy
time
at
Creative
It has been a busy time here at Creative Spaces, with a lot of completions and new projects starting. That said, we have just finished photographing some of our recently completed projects that, we think, are really inspiring! Some of the most amazing features include polished concrete floors, Crittall doors and windows and mixing some beautiful old Victorian features with modern design. We hope you are as inspired as we are! Here are a couple the projects: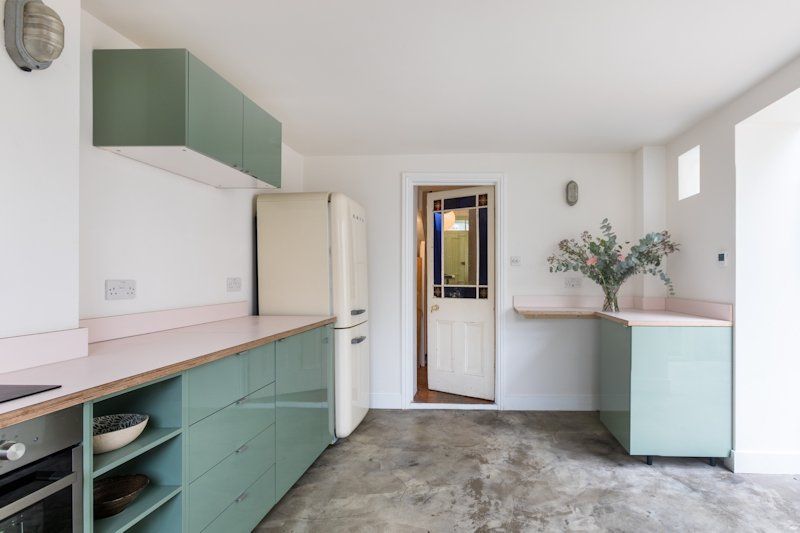 We refurbished and added a side extension to this old Victorian house. We love the way it has turned out using modern techniques whilst retaining the old Victorian features and charm. The client has mixed the minimalist look kitchen with traditional features including old doors, retaining some of the old feature nooks and even some of the original brick wall. The polished concrete floor is a delight and the amount of light brought in by the glass roof of the dining area makes the space bright and airy. Choosing green frames for the windows and doors is a bold move but really compliments the building style and kitchen. Big doors in the kitchen and dining area lead out to a long garden with bags of space and potential!
Click here to view the case study for this extension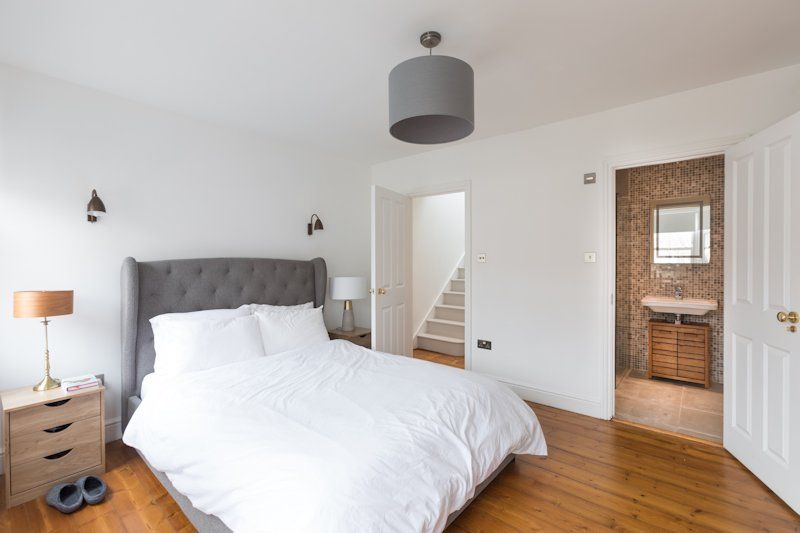 Late last year we finished a refurbishment, loft conversion and extension of our clients house in South London. This was a large project with much of the upstairs refurbished and a new bedroom and bathroom added with the loft conversion; this transformed it from a two bedroom Victorian house to a large and spacious three bedroom home. Alongside the loft conversion, we added a kitchen extension with large dining space opening out onto a nice quiet and calm garden space. One of the most distinctive features of this extension are the Crittall doors and windows to the rear. Coupled with the delightful herringbone style wood floor and dark kitchen cupboards there is a distinctive New York loft vibe to this place. We love it!
Click here to view the case study for this loft conversion and extension
Permitted
Development
Approvals
to
be
made
Permanent
As of 25 May 2019, prior approval applications with be made permanent rather than expire. Regulation 4 of the Town and Country Planning (Permitted Development, Advertisement and Compensation Amendments) (England) Regulations 2019 has been amended so as to make permanent the existing temporary right to enlarge a dwelling house. The amendment removes time limiting dates as well as conditions which require development to be completed by that date.
The government has made some other sweeping changes to the regulations including expanding permitted development rights such the right to turn shops into offices and the right to turn takeaways into residential units. This will allow people greater abilities to modify existing buildings without planning permissions. It will also take a lot of pressure off homeowners who have received permitted development approval to complete the works within a specific time period. For full details of the changes to the legislation please see the government website http://www.legislation.gov.uk/uksi/2019/907/contents/made
Brexit
the
great
unknown!
Do you want to undertake a build project, but are uncertain as to what the impact of Brexit may be on you, the builder and any other service providers? We, at Creative Spaces, have frequently been asked about the impact of Brexit on business and, in turn, any potential impact on our clients.
There is no doubt that Brexit is impacting businesses and clients in London. It is certainly causing a high level of cautiousness in the services sector. However, we are continually working to understand how to bring the best and most appropriate services to our clients in these uncertain times.
What the experts say:
The UK has seen a significant slowdown since the initial rejection of the Governments Brexit plan. The Bank of England's quarterly economic commentary has forecasted that economic growth will remain slow throughout 2019 due to a combination of slow global growth and the intensifying uncertainty over the UK's departure from the EU. According to the Bank latest economic statement, commercial bank funding costs have "risen sharply", which typically indicates an increase in the cost of borrowing for consumers. Furthermore, a survey of business service firms suggested that business activity could slow "sharply" in the event of a no deal Brexit.
What it means for us and you:
Clients are certainly more cautious about committing to a project, particularly a project that tends to be financially significant in their lifetime. That said, our wonderful sales team are well informed on Brexit and can provide significant reassurance to any potential client.
In terms of our staff and the EU Citizens who work for us and with us. This will continue post-Brexit. In line with the draft Withdrawal Agreement issued by the Government, EU Citizens and their families living in the UK will have to apply for EU Settlement Status* in order to continue living and working in the UK.
Right to Work – The government has also stated that there will be no change to the "right to work" status of EU Citizens living in the UK. Therefore, our build teams are guaranteed to remain in situ until such time as Government rules change.
Fundamentally there is not, nor will there be any change to how we conduct our business. We are a proud UK-based company where all our staff work hard and put huge effort into providing the very best service possible.
If you have any questions or queries relating to Brexit and your project please do not hesitate to get in touch.
*The government website states that the following nationalities are eligible: Austria, Belgium, Bulgaria, Croatia, Republic of Cyprus, Czech Republic, Denmark, Estonia, Finland, France, Germany, Greece, Hungary, Iceland, Ireland, Italy, Latvia, Liechtenstein, Lithuania, Luxembourg, Malta, Netherlands, Norway, Poland, Portugal, Romania, Slovakia, Slovenia, Spain, Sweden or Switzerland. Irish citizens do not need to apply to the scheme to protect their rights in the UK, though they are able to do so if they wish. Non-Irish family members of Irish citizens will need to apply to the EU Settlement Scheme if they wish to remain in the UK after 31 December 2020.
Beware
of
Fraudsters!
At Creative Spaces, security and protection of data and payments is a top priority. We are continually striving to update our protection measures and make all our dealings as secure as possible. Unfortunately, fraud in the building trade is an issue and is sometimes difficult to identify. We have become aware of reports of fraudsters posing as legitimate builders scamming people out of money. This article https://www.bbc.co.uk/news/business-44467659 published by the BBC shockingly describes a young woman who was swindled out of thousands of pounds by a fraudster posing as her (legitimate) builder. It's a very sad situation and we feel it necessary to make everyone aware of the potential dangers.
It is important to note, that we at Creative Spaces will NEVER just ask for money for a project. Our staff or build team will never send a random email asking for money. We follow a strict payment protocol which is discussed and agreed with the client prior to any money being exchanged.
We advise a number of steps to help protect yourself against fraud:
1. Listen to your instincts – if it doesn't feel right, it probably isn't. Call us.
2. As mentioned we will never just ask for money, we follow a strict payment protocol. If you feel uneasy, don't pay, talk to us and make sure all is correct. We don't mind waiting for legitimate concerns.
3. Never disclose any security details. We never ask for any of our client's security details.
4. Most importantly, don't panic. If you have a concern or are uncertain about the source of a payment request then call us and talk with us.
Best
of
Houzz
Award
Creative Space Design and Build Ltd of London Awarded Best Of Houzz 2018; Customer Services for the second year running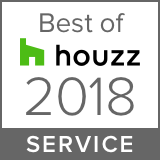 London, UK, March, 2018 – Creative Space Design and Build Ltd of London has, for the second year running, won "Best Of Houzz 2018" on Houzz®, the leading platform for home renovation and design. The Wandsworth based loft conversion and home extension specialist was chosen by the more than 40 million monthly unique users that comprise the Houzz community from among more than one million active home building, home improvement and design industry professionals.
The Best Of Houzz is awarded annually in three categories: Design, Customer Service and Photography. Design award winners' work was the most popular among the more than 40 million monthly users on Houzz. Customer Service honours are based on several factors, including the number and quality of client reviews a professional received in 2017. Architecture and interior design photographers whose images were most popular are recognised with the Photography award. A "Best Of Houzz 2018" badge will appear on winners' profiles, as a sign of their commitment to excellence. These badges help homeowners identify popular and top-rated home professionals on Houzz.
"We at Creative Spaces are very proud of our achievement. In particular, this award shows our ongoing dedication to providing the best customer services. This being the second year in a row that we have been awarded "Best of Houzz; Customer Services"; we are very proud of this achievement. We are aiming for a hat trick with a third win next year by providing the best service we can to all our clients.
"We're so pleased to award Best of Houzz 2018 to this incredible group of talented and customer-focused professionals, Creative Spaces," said Marcus Hartwall, Managing Director of Houzz UK and Ireland. "This business was singled out for recognition by our community of homeowners and design enthusiasts for helping to turn their home improvement dreams into reality."
Creative
Spaces
work
featured
by
Houzz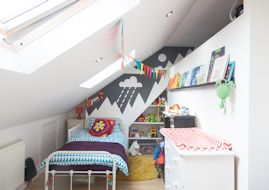 We are delighted to have been featured by Houzz in an editorial on kids bedrooms. The loft conversion we did for our clients gave them a fabulous kids bedroom with lots of storage space. Check out the link below or our case studies page for more info and pictures.
http://www.houzz.co.uk/ideabooks/54652374
Time
and
Leisure
Magazine
Completed loft conversion featured in Time and Leisure magazine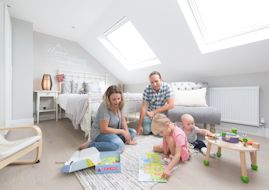 We are very proud to have one of our recently completed loft conversions featured in the August edition of Time and Leisure Wimbledon and Wandsworth magazine. We got a great write up with some lovely pictures of our clients enjoying their new loft space. For the full article click here. Keep an eye out for a write up on the loft conversion in the September issue of Time and Leisure, Clapham, Battersea and Fulham.