Blog
Brexit
the
great
unknown!
Do you want to undertake a build project, but are uncertain as to what the impact of Brexit may be on you, the builder and any other service providers? We, at Creative Spaces, have frequently been asked about the impact of Brexit on business and, in turn, any potential impact on our clients.
There is no doubt that Brexit is impacting businesses and clients in London. It is certainly causing a high level of cautiousness in the services sector. However, we are continually working to understand how to bring the best and most appropriate services to our clients in these uncertain times.
What the experts say:
The UK has seen a significant slowdown since the initial rejection of the Governments Brexit plan. The Bank of England's quarterly economic commentary has forecasted that economic growth will remain slow throughout 2019 due to a combination of slow global growth and the intensifying uncertainty over the UK's departure from the EU. According to the Bank latest economic statement, commercial bank funding costs have "risen sharply", which typically indicates an increase in the cost of borrowing for consumers. Furthermore, a survey of business service firms suggested that business activity could slow "sharply" in the event of a no deal Brexit.
What it means for us and you:
Clients are certainly more cautious about committing to a project, particularly a project that tends to be financially significant in their lifetime. That said, our wonderful sales team are well informed on Brexit and can provide significant reassurance to any potential client.
In terms of our staff and the EU Citizens who work for us and with us. This will continue post-Brexit. In line with the draft Withdrawal Agreement issued by the Government, EU Citizens and their families living in the UK will have to apply for EU Settlement Status* in order to continue living and working in the UK.
Right to Work – The government has also stated that there will be no change to the "right to work" status of EU Citizens living in the UK. Therefore, our build teams are guaranteed to remain in situ until such time as Government rules change.
Fundamentally there is not, nor will there be any change to how we conduct our business. We are a proud UK-based company where all our staff work hard and put huge effort into providing the very best service possible.
If you have any questions or queries relating to Brexit and your project please do not hesitate to get in touch.
*The government website states that the following nationalities are eligible: Austria, Belgium, Bulgaria, Croatia, Republic of Cyprus, Czech Republic, Denmark, Estonia, Finland, France, Germany, Greece, Hungary, Iceland, Ireland, Italy, Latvia, Liechtenstein, Lithuania, Luxembourg, Malta, Netherlands, Norway, Poland, Portugal, Romania, Slovakia, Slovenia, Spain, Sweden or Switzerland. Irish citizens do not need to apply to the scheme to protect their rights in the UK, though they are able to do so if they wish. Non-Irish family members of Irish citizens will need to apply to the EU Settlement Scheme if they wish to remain in the UK after 31 December 2020.
Beware
of
Fraudsters!
At Creative Spaces, security and protection of data and payments is a top priority. We are continually striving to update our protection measures and make all our dealings as secure as possible. Unfortunately, fraud in the building trade is an issue and is sometimes difficult to identify. We have become aware of reports of fraudsters posing as legitimate builders scamming people out of money. This article https://www.bbc.co.uk/news/business-44467659 published by the BBC shockingly describes a young woman who was swindled out of thousands of pounds by a fraudster posing as her (legitimate) builder. It's a very sad situation and we feel it necessary to make everyone aware of the potential dangers.
It is important to note, that we at Creative Spaces will NEVER just ask for money for a project. Our staff or build team will never send a random email asking for money. We follow a strict payment protocol which is discussed and agreed with the client prior to any money being exchanged.
We advise a number of steps to help protect yourself against fraud:
1. Listen to your instincts – if it doesn't feel right, it probably isn't. Call us.
2. As mentioned we will never just ask for money, we follow a strict payment protocol. If you feel uneasy, don't pay, talk to us and make sure all is correct. We don't mind waiting for legitimate concerns.
3. Never disclose any security details. We never ask for any of our client's security details.
4. Most importantly, don't panic. If you have a concern or are uncertain about the source of a payment request then call us and talk with us.
Best
of
Houzz
Award
Creative Space Design and Build Ltd of London Awarded Best Of Houzz 2018; Customer Services for the second year running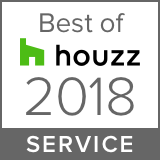 London, UK, March, 2018 – Creative Space Design and Build Ltd of London has, for the second year running, won "Best Of Houzz 2018" on Houzz®, the leading platform for home renovation and design. The Wandsworth based loft conversion and home extension specialist was chosen by the more than 40 million monthly unique users that comprise the Houzz community from among more than one million active home building, home improvement and design industry professionals.
The Best Of Houzz is awarded annually in three categories: Design, Customer Service and Photography. Design award winners' work was the most popular among the more than 40 million monthly users on Houzz. Customer Service honours are based on several factors, including the number and quality of client reviews a professional received in 2017. Architecture and interior design photographers whose images were most popular are recognised with the Photography award. A "Best Of Houzz 2018" badge will appear on winners' profiles, as a sign of their commitment to excellence. These badges help homeowners identify popular and top-rated home professionals on Houzz.
"We at Creative Spaces are very proud of our achievement. In particular, this award shows our ongoing dedication to providing the best customer services. This being the second year in a row that we have been awarded "Best of Houzz; Customer Services"; we are very proud of this achievement. We are aiming for a hat trick with a third win next year by providing the best service we can to all our clients.
"We're so pleased to award Best of Houzz 2018 to this incredible group of talented and customer-focused professionals, Creative Spaces," said Marcus Hartwall, Managing Director of Houzz UK and Ireland. "This business was singled out for recognition by our community of homeowners and design enthusiasts for helping to turn their home improvement dreams into reality."
Creative
Spaces
work
featured
by
Houzz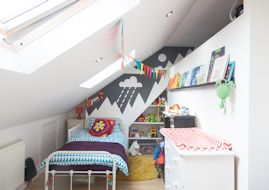 We are delighted to have been featured by Houzz in an editorial on kids bedrooms. The loft conversion we did for our clients gave them a fabulous kids bedroom with lots of storage space. Check out the link below or our case studies page for more info and pictures.
http://www.houzz.co.uk/ideabooks/54652374
Time
and
Leisure
Magazine
Completed loft conversion featured in Time and Leisure magazine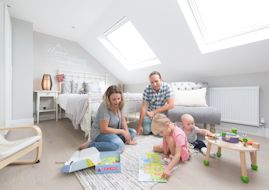 We are very proud to have one of our recently completed loft conversions featured in the August edition of Time and Leisure Wimbledon and Wandsworth magazine. We got a great write up with some lovely pictures of our clients enjoying their new loft space. For the full article click here. Keep an eye out for a write up on the loft conversion in the September issue of Time and Leisure, Clapham, Battersea and Fulham.